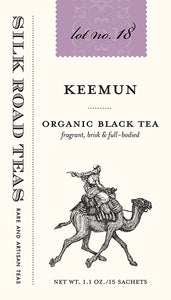 KEEMUN Organic Sachets
Keemun is often called the "Burgandy" of black tea. It steeps to a bright red liquor. The taste is full-bodied, brisk, with hints of cocoa and a lingering, sweet bouquet.
This organic black tea goes well with food, as a refreshing cup most anytime or made to iced tea.
The leaves have been minimally milled to preserve the natural flavors and bring a richer, deeper flavor to the cup and to afford you multiple steeps.
| | |
| --- | --- |
| Ingredients | Organic black tea |
| Aroma | Hints of cocoa |
| Flavors | Lingering, sweet bouquet |
| Caffeine levels | Caffeinated (medium) |
| Brewing temperature | 195-205 F |
| Brewing time | 3 minutes |
| Certification | USDA Organic |
---
We Also Recommend