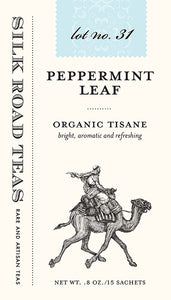 PEPPERMINT LEAF Organic Sachets
Fresh, organically grown in the Pacific Northwest. This varietal offers a strong minty flavor and rich aroma. A restorative herbal that will calm and soothe.
The leaves have been minimally milled to preserve the natural flavors and bring a richer, deeper flavor to the cup.
Peppermint leaves have no caffeine.
| | |
| --- | --- |
| Ingredients | Organic peppermint leaves |
| Aroma | Fresh and rich minty aroma |
| Flavors | Strong minty flavor, refreshing |
| Caffeine levels | No caffeine |
| Brewing temperature | 195-205 F |
| Brewing time | 3 minutes |
| Certification | USDA Organic |
---
We Also Recommend