News
Posted by Dana Chapman on
Do you need tasty morning pick-me-up without the caffeine crash later? Look no further, Matcha is your friend! Amino acid L-theanine lends it a calming effect while higher caffeine content will keep you up. Amino acids are behind the mouth-filling experience and umami taste. Matcha is also rich in in polyphenols (catechins) with antioxidant properties to protect your body from free radicals which damage body cells. Higher caffeine content makes Matcha more bitter that classic tea and the tannic polyphenols make it brisker and more astringent. You consume the whole leaf not just a brew. Milk with a touch of sweetener can tame the bold taste. Too...
Posted by Dana Chapman on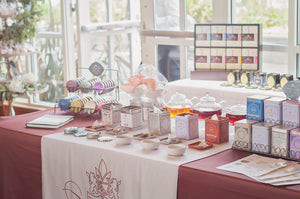 It was our pleasure to be part of the community at the 2nd Annual Marin Wedding Fair in Mill Valley. We got a chance to meet with tea lovers from the Bay Area and to share our love for tea with them.